South Gippsland Hire & Sales
Need It, Hire It!!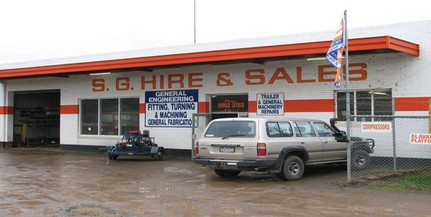 WHY HIRE?:

Hiring is the modern answer to your needs. Hire whatever you need, whenever you need it....then simply return it. No maintenance or storage problems. Here at S.G Hire & Sales we pride ourselves on our service if we dont have it we will find it for you




Hiring makes good sense
Every day, more and more people come to realise the many benefits of hiring tools and equipment from S.G. Hire & Sales.




Hiring saves money
With no capital outlay, you can have immediate access to our huge range of the most modern equipment. You save on labour costs and the problems of registration, depreciation, storage, repairs and maintenance are not yours.




When you hire, you're the boss
You plan your work to suit yourself and hire the equipment only when you want it.




Try before you buy
If you're thinking about buying something new, why not try before you buy at S.G.Hire & Sales to ensure it's what you really want.




No obsolescence
When you hire from S.G. Hire & Sales, you get the very latest equipment. When new and better equipment is developed, we buy it, so you can hire it.




Business hiring is fully tax deductible

Our contracts and invoices provide you with accurate accounting information so your paperwork is easy.




Hiring makes work easy
The right equipment makes the most difficult task easy. Work is safer and more productive with the latest equipment from S.G.Hire & Sales




Meet peak demands
You can add to your existing plant and equipment during peak periods by simply calling S.G. Hire & Sales




More reliable equipment
We are constantly upgrading and adding to our huge range to provide you with the most reliable equipment. S.G.Hire& Sales stocks only leading brands that are renowned for reliability and performance. Our rigorous cleaning, servicing and testing ensures you hire reliable and efficient equipment.




We're committed to service
Any business is only as good as its people. S.G.Hire & Sales trained managers and staff enjoy providing you with the service to totally satisfy your requirements. They have the authority to make the decision on-the-spot to give you every assistance. If you want something special, tell them.


We're also concerned about safety. Our more complex equipment comes with a user guide to help you stay safe and productive.




We make it easy
Even before you get to S.G.Hire & Sales, we make it easy. Our convenient phone-in reservation system gives you peace of mind, knowing the equipment is there. You can also order your requirements beforehand via our web site. Our Hire Centres are not just easy to find, they also have drive-in car parking - usually undercover - making it easy to pick up your equipment. You'll also appreciate our accurate, paperwork that makes for less fuss and faster service.