Civil, marine, oil and gas project management contractors and remote equipment hire

Our current plant list of mini excavators, Bobcats, loaders and tippers enable quick and efficient completion for all types of civil works construction. Combined with an extensive fleet of generators and a full range of welding machines, Civilpro is able to fully support local or remote projects form early start up through to client satisfaction.
CROMMELINS are seen nationally as "progressive" and are a "preferred supplier" to the Plant Rental Industry. This we believe is due to their experience in Hire and hands-on knowledge of Industry needs.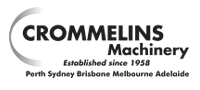 ABOUT KANGA
Kanga Loaders is a premium manufacturer and supplier of earthmoving equipment to Australian and International markets and was the very first to commercially produce the 'stand-on' compact skid steer loader.